Vivian Maier's story
Vivian Maier's story
The traces of a life
Find this exceptional document on the fascinating life of Vivian Maier:
The traces of a life (3.13 Mo)
Vivian MAIER
Born on February 1, 1926 in New York, Vivian Maier was the child of European immigrants who had recently settled in the United States.
Her father, Charles MAIER , came from a family of immigrants. Wilhem and Maria Von Mayer landed on Ellis Island in 1905 with their son Charles and their daughter Alma. The Von Mayer family came originally from a Hungarian province, which is now part of Slovakia. On their arrival on American soil, they were declared to be of German origin. Their family name Von Mayer changed to Maier when they became American citizens in 1912.
Her mother, Maria JAUSSAUD , was born on May 11, 1897, in the family estate of Beauregard, in the village of Saint-Julien en Champsaur in the Southern French Alps. She was the daughter of Eugénie Jaussaud, who as a young teenage girl had an affair with the farm boy, Nicolas Baille.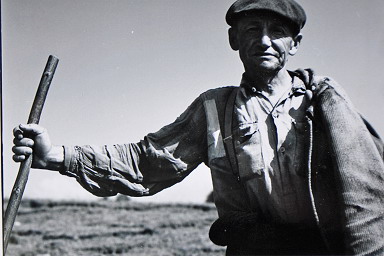 Nicolas BAILLE
Maria Jaussaud spent all her childhood in Saint-Julien, with her aunt, Marie Florentine Jaussaud, far away from her parents who had both emigrated to the United States.
Nicolas Baille, with his passport issued on June 12, 1901 in his pocket, embarked on the ship "Le Bretagne" which left Le Havre on June 15, 1901. When he arrived in New York 8 days later, he immediately went to the DAVIN family, owner of a ranch in Walla Walla, a town in Washington State, 50 km from the border with Oregon. He returned to France much later, around 1926.
Eugenie Jaussaud, her mother born on January 30, 1881, left France to go to work in New York, where she arrived on May 20, 1901. She worked all her life for wealthy American families who had a large number of domestic staff.
Sixteen-year-old Maria Jaussaud left the Hautes Alpes herself to join the household of Louise ORIO-HECKLER, an American woman who toured Europe. After a few months in Italy, Maria embarked with her employer on the ship 'France' to reach New York on June 19, 1914.
VIVIAN: her life - her family 1926 - 2009
Maria met Charles MAIER, aged twenty-six, who was employed in a hardware shop. Their marriage took place on May 11, 1919 in New York City.
The couple moved in with the groom's parents at 220 East/76thStreet in Manhattan. Maria obtained her American citizenship upon her marriage.
The couple's first child, Charles William MAIER was born in 1920.
The family moved in 1923 and occupied an apartment at 162 East/56 th Street in Manhattan. Vivian took her first steps in this apartment in 1926. She grew up with the languages of German, French, English spoken around her.
Her parents separated very quickly. Vivian stayed with her mother while her brother was taken care of by his paternal grandparents.
Maria MAIER and her daughter Vivian found refuge with Jeanne BERTRAND at 724 Saint Mary's Street in the Bronx.
Jeanne BERTRAND was also from the Hautes Alpes. Born in Agnières en Dévoluy on September 27, 1880, she spent her childhood in the Champsaur. Her family emigrated to the USA in 1893. As early as 1906, her work stood out during a photography exhibition in Boston. She became a famous photographer, and later a talented sculptor in New York. An astonishing journey for this little girl who discovered the USA at the age of twelve.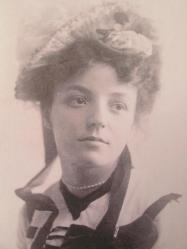 Jeanne BERTRAND
Thus, from an early age, Vivian lived with a professional female photographer, something that was quite rare at that time.
She continued to observe and understand the handling of a Kodak camera by watching her mother use it regularly.
Her childhood in France
In 1932, Vivian discovered the Alps and the birthplace of her maternal family.Did Maria Maier decide to come back to France for good? It's possible.
The estate of Beauregard was inhabited only by her aunt, Marie-Florentine Jaussaud, who was single and childless. Vivian should logically become its owner one day.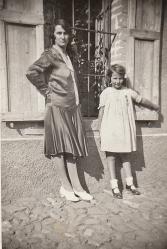 Vivian Maier and her mother
Vivian arrived in this village at the age of six. She was welcomed into the elementary school here. The estate of Beauregard became her home.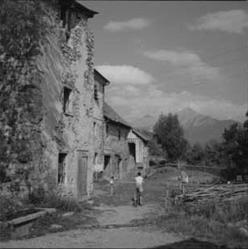 Every day, she walked the few hundred meters to meet up with the village children in the playground. She also walked the dirt roads to visit her cousins ​​in the surrounding villages. She discovered the life led by peasants in the 1930s. Her mother immortalized a few moments of her life in her photographs.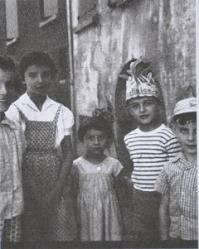 Cheerful and playful, Vivian liked to play outside with the boys, reluctant to stay indoors near the fireplace.
She discovered the existence of her maternal grandfather, Nicolas BAILLE who came back to the Champsaur and settled in a house in Ricous. It was not until 1932 that he recognized in the presence of a notary that he was Maria's father, and therefore Vivian's grandfather.
Maria Maier left the family home in 1934 to move to an apartment in Saint-Bonnet-en-Champsaur, a village five kilometers from Saint-Julien. Vivian spent the next four years in this village, until the age of twelve. Now she spoke French and played in the surrounding orchards.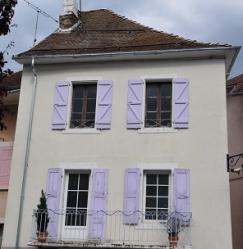 Why did her mother decide to return to the USA in 1938? Maybe to see her son again or to find a well-paid job, which was not available in the Champsaur?
On 1 st August 1938 Maria and her daughter Vivian left the Champsaur and boarded the "Normandy" leaving Le Havre for New York.
Vivian Maier's New York period.
Vivian, then 13, moved with her mother to 314,64th Street in Manhattan. Her father and brother may have rejoined them by then.
Vivian had to relearn the 'American language' on her own. She said that she rediscovered it in the theater and in the cinema. She had to forget the freedom she relished in the mountains where everyone knew each other.
She got to know her maternal grandmother who continued to work in the service of wealthy American families. Eugénie Jaussaud died in 1948. She left a third of her savings to Vivian.
It seemed that Vivian Maier did not have the possibility to continue her education.
She worked as a saleswoman, perhaps in the 'Silk shop' owned by her uncle Joseph Corsan, husband of Alma Maier, her aunt, in Manhattan.
When in 1950, she applied for a passport, she declared herself a 'worker'. This passport allowed her to visit France and the Champsaur because she had just inherited the family estate of Beauregard in Saint-Julien en Champsaur.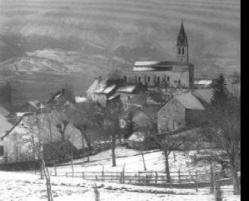 Two years in France:
Her great-aunt Marie Florentine JAUSSAUD made a will in her favor, bequeathing the family estate to her. Maria Maier was disinherited.
Vivian stayed in the Champsaur again from 1950 - 1951, as the estate had to be settled. Vivian chose to auction off the Beauregard estate, which consisted of fifteen hectares of land and a building. Vivian Maier found herself to be a good businesswoman. She offered several lots for auction, withdrawing them from the auction when the price seemed insufficient.
She finally decided to sell her possessions by mutual agreement to those who made reasonable offers.
While waiting for the sale, she walked in the valley, taking pictures with her Kodak.
Each meeting was a photo in the making. The subjects were happy to pose, but were surprised by this woman walking alone in all weathers, having only one obsession, taking pictures, but they didn't object to her.
"When we came back from mass, she stopped at the edge of the mountain stream, admired the ice sculptures there and asked us to pose in front of them to take pictures.The cold was terrible, but nothing stopped her. »testified Marius PELLEGRIN remembering Vivian's many visits to Benevento. "She took pictures of us on all the time. One day, I was holding a little cat in my arms, she took many pictures of this while I was posing in front of the door of the family home. "
People were saying, "She's got lot's of energy, that little lady!" »While watching her cycle to visit the various members of her family, living in Benevento, in Saint Laurent du Cros, in Saint Julien en Champsaur, in Saint Bonnet.
She also visited her grandfather Nicolas BAILLE who lived alone in the house he bought with the few cents he brought back from Walla Walla. The man was poor, living on so little. She worried about him, talked about it to the family who lived in the neighboring farm. They became her friends, with whom Vivian ate lunch and spent time. She became a friend of Nelly, their daughter, together they discovered the work in the fields and the rough and simple life of the mountain people and imagined being a shepherd She took many photos of farm animals and the surrounding landscapes.
As she climbed mountains, photographing peaks and passes, she was almost seen as a 'spy'. It was a passion and a hobby for her, but the local farmers couldn't understand this behaviour, as all their waking hours were filled only with farm work.
At this time, Vivian spoke good French.
As the sale of the estate was going through, she bought a family grave in the cemetery of St Julien en Champsaur and the body of Marie Eugénie, her great aunt was transferred from the mass grave to this new tomb, adorned with an engraved stone.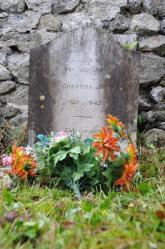 America forever
She returned to New York in April 1951. As her only address, she indicated a post office box in Flushing. She did not rejoin any of her relatives and from that time on, Vivian kept silent about her personal and family history.
Nothing except photography and travel were important to her. No one knew what fate awaited her.
The money from the estate was a godsend so that she could continue with her two passions.
She took jobs as a nanny which gave her a place to stay and a few dollars.
But Vivian only really lived to roam the streets of New York, out with one or two of her cameras.
She spent a few months in California.
In 1956, Vivian settled permanently in Chicago. She became a nanny. Her cameras never left her. As soon as she had a moment of spare time, she walked the streets of Chicago and photographed the daily life of its inhabitants. Portraits of passers-by and down-and-outs were mixed with scenes of everyday life under the expert gaze of Vivian MAIER.
She was a tireless globetrotter. She often visited Canada. The Caribbean welcomed her on several occasions. She went to Puerto Rico and Cuba. Was it the vitality of the people living in these sunny locations that attracted her? She traveled to Central America and South America, but only stayed for a few days in all the major capitals.
One day, it was the great departure, as In 1959, her employers accepted her wishes and let her go for six months. That was all she needed to go around the world. Leaving Los Angeles, she returned six months later via New York.
She traveled alone in Manila, Bangkok, Kochi (Cochin- Karala State in India). She dared to go to Yemen and traveled through the ancient sites of Cairo.
Returning through Italy and France, she stayed again in the valley of her childhood, the Champsaur. Resuming her long bike rides, she photographed the villages, its inhabitants and the landscapes which reminded her of her childhood. She met her former teacher, took a self-portrait in her school and succeeded in having this woman pose with a billhook, whose wrinkles tell of how hard her life had been. Thousands of photos document this journey. They are unique photographs that talk about an era.
That was her last stay in the valley.
Who were her relatives, her friends?
She kept silent, only revealed her passion for photography. In the Champsaur everyone knew that they should not ask her to divulge personal information.
The Champsaur lost her and America regained her. She traveled the coasts of Florida (1960) and the West Indies (1965).
Old age saw her grappling with significant financial difficulties. She could no longer pay for the storage of her possessions, so an auction took place, where film canisters were on display. John MALOOF acquired a lot, which was the start of her international recognition!
He discovered the quality of the photographs and set out in search of who was the unknown photographer. She never knew that, as she died on April 21, 2009, a few days before John MALOOF discovered her last home.